So, you all know the food that I miss, but what about the food that is typical to Costa Rica? Here is just a sample of the traditional fare that is served up here.
Casado is the classic Costa Rican meal, served pretty much everywhere, from soda's to hotels, bars to restaurants

. It actually means 'married man' and consists of black beans, rice, plantains, salad and a tortilla; as an extra, you can choose from beef, chicken, pork or fish too. The term 'casado' perhaps originated when people went to restaurants and ordered food that married men had at home. Nice simple, honest food, and usually very tasty.
A Casado


Gallo Pinto is a traditional dish that originates form Costa Rica, or Nicaragua, depending on your view point! The most common breakfast dish in Costa Rica. The name actually means 'spotted rooster' in Spanish. I have yet to be successful in preparing this dish, but then you can get a good ready-made version from the AutoMercado!
GalloPinto
Patacones, snack made from unripe green plantains that have been fried twice, sliced and beaten flat and then fried again. They are often served with a black bean sauce, or are prepared as a side-order, similar to chips (french fries).
Not-so-healthy Patacones
Arroz con Pollo, chicken and rice. A Latin American Pilaf that is a staple throughout the country. Arroz con Gambas is popular too.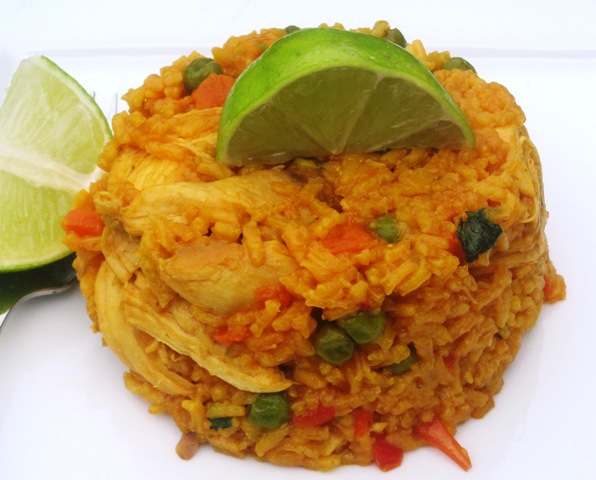 Arroz con Pollo, and is usually served in this fashion.
Ceviche and Russian Salad are renowned here too, as is white cheese, which is served with everything: it is a non-processed cheese whereby salt is added to the milk during production - a bit like Feta.
Maybe I will post some Costa Rican recipes for you all to try!!
Thanks to Google Images for the pictures - I really couldn't bear to take photos of foods that we have eaten!